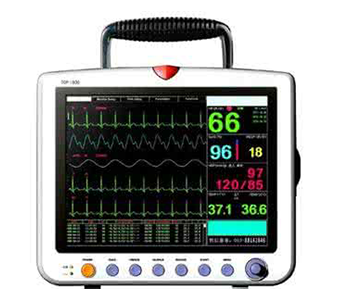 Medical Monitor
With onboard high speed DDR3 memory,High storage capacity eMMC and NAND FLASH,EMA Medical Multi-Parameter Monitor is based on TI AM335x.It can provide steady BSP according to different demand.With rich software resources,it also provides industrial grade I-Android4.0.
The application of I-Android in monitor
As the coming of Android times,the medical industry is also becoming more convenient and humanized
I-Android is EMA's exclusive design.It can be used in the Android system and middleware of Medical Multi-Parameter Monitor
Compared with traditional Android system,I-Android can give you outstanding touching experience.Most importantly,the application programs can use the API provided by I-Android.It makes that we can easily control devices like UART,GPIO,I2C,CAN and RS485 ,which meet the control requirements of the monitor for function peripherals.
Current situation of the industry
Now the medical multi-parameter monitor are designed based on i.MX283,S3C2440 and Atmel 9260 with ARM9 kernel.But the frequency and performance of ARM9 is not better than Cortex-A8.
The speed of peripheral like LCD is low.And the 800*400 resolution is low too.So if you use high resolution LCD,it will consume most of the CPU resources.
Cannot support 1000M Ethernet and CAN communication.The peripheral resources are not enough so it need to extend a large number of serial ports.
High price,Low cost performance and High risk of production shutdown.
EMA Medical Multi-Parameter Monitor Solution
The product integrates 6 hardware ports which meet the demand of system module like ECG,SPO2,NIBP,RESP/CO2 and TEM.EMA offers high performance serial port extension solution.The biggest extension is one to four.
Use 512MB DDR3 with higher speed and lower cost.
Use up to 4GB eMMC and 2 Gbit NAND with larger storage capacity and more flexible configuration.
1000M MAC,WIFI module and 3G module.
EMA offers RGB TO LVDS Solution. With SGX530 graphics accelerator,the resolution is up to 1366x768@60Hz.So it consumes less of the system resources and has more outstanding display effect.
The EMC protection circuit can meet the industrial standards perfectly.
Software Resources
(1) Operating System: ØLinux 3.2 ØAndroid 4.0
(2) Provides driver program of all the interfaces
(3) DCAN、Audio、CPSW(Ethernet)、EDMA、LCD Controller、 touch screen、 MMC/SD、NAND、McSPI、PWM、USB、GPIO等
(4) Provides OE tool bag
(5) cation application based on QT
(6) Provides communication DEMO based on RS485
Consultation & Ordering

FAE

Sales

Contacts

Mr. Ken

Miss Jessy

Call phone

(+86) 131 6089 2388

(+86) 131 1959 1334

E-mail