Integrated Cortex-A17 Quad-core processor up to 1.8GHz,EVM3288 is the flexible development kit based on SOM3288.EVM3288 can be used to quickly evaluate the feasibility of using RK3288 or SOM3288 to design products.Customers can experience the high performance of RK3288 with the function of supporting 4K H.265 video,dual-screen asynchronous display and multi-window operation.
Hardware
Contents
Software
Document
Application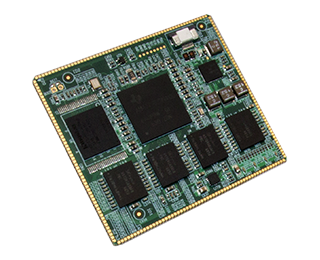 Introduction
Integrated Quad-core Cortex-A17 CPU up to 1.8GHz and Mali-T764 GPU,SOM3288 is the multifunctional system on module designed by EMA.SOM3288 achieves its eight-layer board design through the 28nm HKMG craft.With only 60MM*54MM*3MM in size,SOM3288 has core components on board including RK3288 processor,up to 2G DDR3,up to 64G eMMC and up to 1G NAND FLASH. It has a wide range of functions including supporting 4K H.265 video,Dual-screen asynchronous display and Multi-window operation.
Hardware Features
1x HDMI(up to1920*1200),1x LVDS

Supports capacitive touch screen

1x RJ45 (Double Gigabit Ethernet Card)

1x RS485, 5x UART TTL serial port

5x USB2.0 HOST, 1x USB OTG

802.11 b/g/n WIFI module

Peripherals: Earphone input/output, Microphone input, Camera interface

Operating temperature:0℃~+70℃

Humidity:RH40%~RH90%(Non-condensate)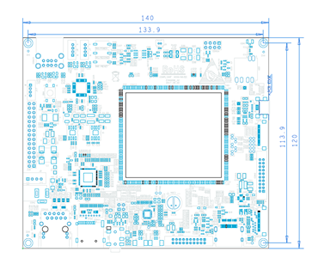 Consultation & Ordering

FAE

Sales

Contacts

Mr. Ken

Miss Jessy

Call phone

(+86) 159 1576 8027

(+86) 131 1959 1334

E-mail
Kit Contents

Optional Contents

SOM3288

SOM3288 in different specifications(Including different CPU,FLASH and Memory)

EVM3288 carrier board

WIFI module

12V/2A power adapter

15.6 inches EDP LCD
10.1 inches MIPI LCD
7 inches LVDS LCD

DVD(Including User Manual,Development Tools,BSP source code,PDF reference schematic diagram)

15.6 inches USB Multi-point capacitive screen
7 inches I2C Multi-point capacitive screen

3.3V TTL UART to RS232 module
Software Parametrics:
Linux

Boot & Download

Version

u-boot 2017.09

Boot Mode

Boots from eMMC/SD.

Boot Speed

Supports Boot Speed Optimization.

Splash Screen

Supports Splash Screen Customization.

Download Method

Downloads from Internet and Serial Port.

Kernel

Kernel Version

Linux 4.4.83

File System Format

EXT3/EXT4/NFS/JFFS2/UBIFS

Device Driver

Provides all peripheral drivers.

File System

Can customize File System based on your requirements.

Graphical Interfaces

QT5.7

Provides perfect QT development resources.
Android

Version

Android 6.0

Device Drive

Provides all peripheral drivers.

EMA-IO

Supports UART, CAN, GPIO when android system device access.

EMA-Launcher

Supports Boot Animation Customization.

Can start specified application automatically when system boot.

Supports program management including installation / uninstall / upgrade / start and other functions.

Supports Internet management.

ROM Customization

Supports ROOT.

Supports virtual keys hidden.

Supports Status Bar hidden.

Supports System notification Block.

Supports Lock Screen hidden.

Can integrate third-party applications.
SOM3288
Application Areas
SOM437X can be used for medical and industrial areas of embedded application, including networked industrial drive controller, consumer medical apparatus and instruments, HMI industrial man-machine interface, navigation equipment, barcode scanners, portable data terminal, test and measurement, industrial automation and other fields.
Image Processing

Advisement Player

Ticket Vending Machine

Game Console

Biological Recognition System

Paperless Conference System

Paperless Conference System

Portable Data Terminal